Everybody loves a car that smells fresh and clean when they hop in. An older vehicle can start to smell bad over time, especially if you frequently carry pets in the car with you. Many people often attempt to use air fresheners to get that new car smell back in their vehicle. There are many great air freshener options on the market today, and there are even many different types of air fresheners available. We'll give you the details on the different styles available, and we'll also give you our picks for the ten best air fresheners out there. Keep reading to learn how to make your car smell great again!
Types Of Car Air Fresheners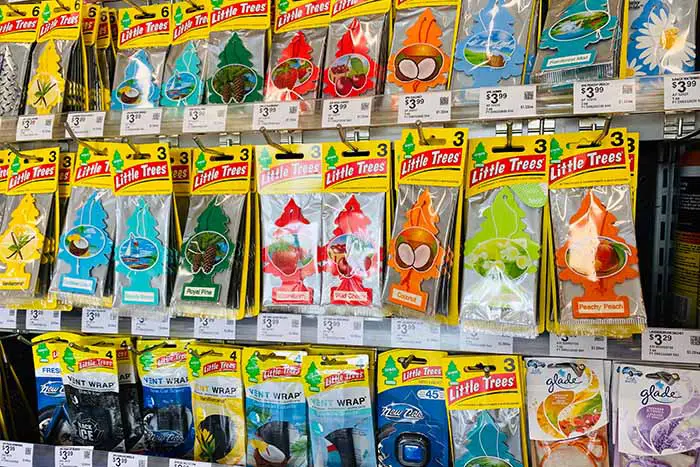 In the past, your only option was to hang an air freshener from your rearview mirror and hope it worked. However, that is not the case today! Now there are many different types of air fresheners out there, and each works in a slightly different way. Here are the most popular types available.
— Plug In
You have likely seen the plug-in type air fresheners for your home, but did you know that they are available for your car as well? They simply plug into your cigarette lighter for power. These devices are often adjustable so that you can control the amount of scent that is released. You should make sure to remove the plug-in once you turn off your vehicle or use an outlet that does not receive power while the car is off. Otherwise, you could drain your battery.
— Essential Oil Diffuser
Essential oils have become very popular in recent years, and that also applies when it comes to air fresheners. These air fresheners diffuse essential oils into the air so that it smells clean and fresh. Many people choose this option because the oils are considered to be natural and do not contain any chemicals. There are also a variety of scents to choose from, like lavender, peppermint, and many others.
— Air Freshener Spray
This is one of the oldest types of air fresheners on the market. You simply spray this into the air in your vehicle so that you get the fresh scent. You can spray more or less, depending on how much scent you need in the vehicle. Many of these sprays will also absorb into the upholstery and seats of your car to help refresh and remove odors from them as well.
— Vent Clip
The vent clip air fresheners provide another way for you to control the amount of scent that gets released. As you run your air conditioner or heat (hopefully, you don't have your AC blowing hot air), the air passes through the vent clip. This releases the scent and carries it all throughout your vehicle. The more your air blows, the more the scent gets circulated through the vehicle.
10 Best Car Air Fresheners
Now that you know the different styles of air fresheners that are available, we will help you decide which ones are right for you. Here are some of the best car fresheners on the market, as well as some details about each one.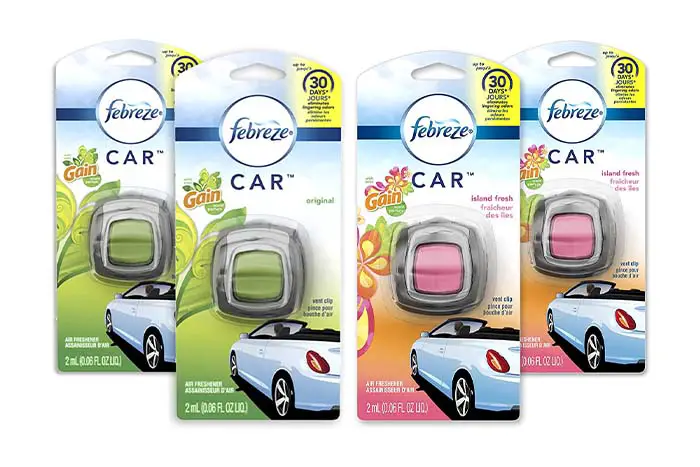 This particular air freshener took the top prize on our list for a few reasons. First, Febreze is known for making great products. Not only will this product add a nice scent to your vehicle, but it also helps to deodorize your car. This means that it doesn't just mask the odors that are present. It will actually neutralize and remove the bad odors because this product is a great odor eliminator.
Next, the size and ease of use of this product make it second to none. It is a small clip-on style air freshener. Simply clip it onto one of your air vents, and you will hardly even notice that it is there. More than likely, none of your passengers will notice it either. Since it is clipped to your vent, running your AC will help to circulate the freshness throughout the vehicle.
Finally, you can't beat the price! You can get a pair of these clips for about $6. They will each generally last for about a month, so they provide tremendous value for the price. Go ahead and pick up some of these today to get your car smelling great again!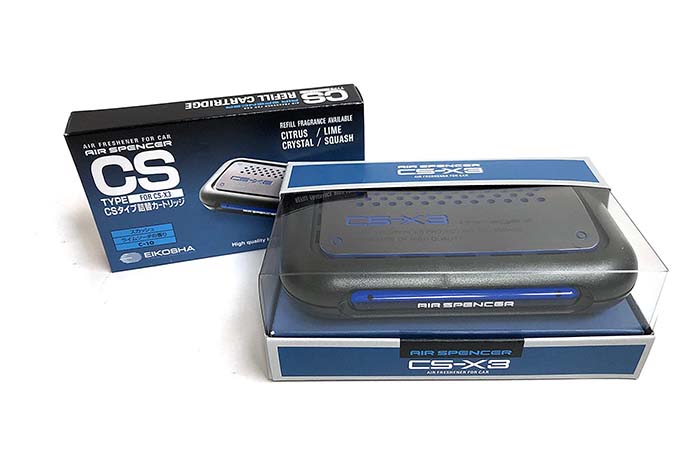 The CS-X3 premium air freshener came in a close second on our list. Most people agree that the squash scent is the way to go with this air freshener for your car. However, don't let the name fool you. It smells nothing like squash to most people! It provides a slightly sweet smell that most people agree is great.
The CS-X3 is a little larger than the Febreze vent clips. This air freshener needs to be placed somewhere in the vehicle, and everyone seems to agree that under a seat is a great place for it since it is too large for your car vents. Its odor-eliminating properties are not quite as good as the Febreze clips, although the CS-X3 does provide a great smell that lasts for quite a while.
Finally, the price is a little higher, but still a great value considering how long this will last. It will cost you about $20 for this air freshener, but you can simply purchase refills when you need them after the initial purchase.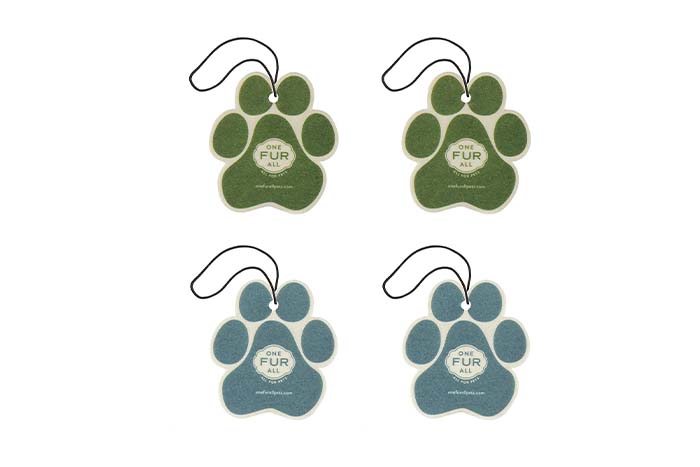 If you frequently ride with your pet in the car, you know that pet odors can easily get trapped in there. Nobody wants to hop in your car for a ride and smell traces of your dog when they get in. The Pet House air freshener will stop that problem right away!
This air freshener has some of the best odor-eliminating properties of any one on the list. It can easily remove those pet odors and replace them with nice, refreshing smells. These come in a variety of scents, so you are bound to find one that pleases your sense of smell.
The Pet House air fresheners are extremely easy to use. Simply hang them from your mirror or place them elsewhere in your car. They are quite small, but they work like a much larger air freshener. In addition to your car, you can really use these in any small space like a boat, closet, restroom, or anywhere else that needs freshening. These only cost about $3 each, so you might as well go ahead and get a few different scents to see which one you like best.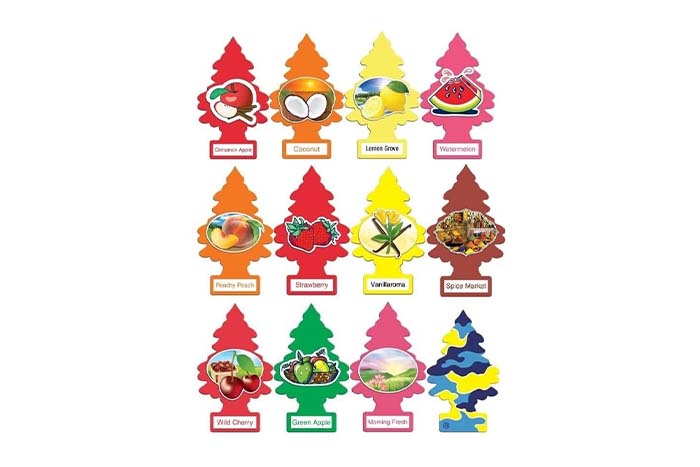 These little air fresheners have been around forever, but don't let the nostalgia and low price fool you. The Little Trees air fresheners have been around forever for a reason – they actually work! Plus, they have added a ton of new scents over the years. Black Ice seems to be most people's current favorite, and it can help mask bad smells in your car nearly as good as any air freshener out there.
You can hang these from your rearview mirror, stick them between your seats, or hang one near your air vents. They are versatile enough to work just about anywhere you place them, and these Little Trees car air fresheners last for quite a while.
The biggest plus of these is that you can easily replace them whenever you need a new boost of car fragrance. You can purchase a 6-pack of these air fresheners for about $6, so they are barely $1 each. For the price, you can't beat the performance that you will get from these hanging air fresheners.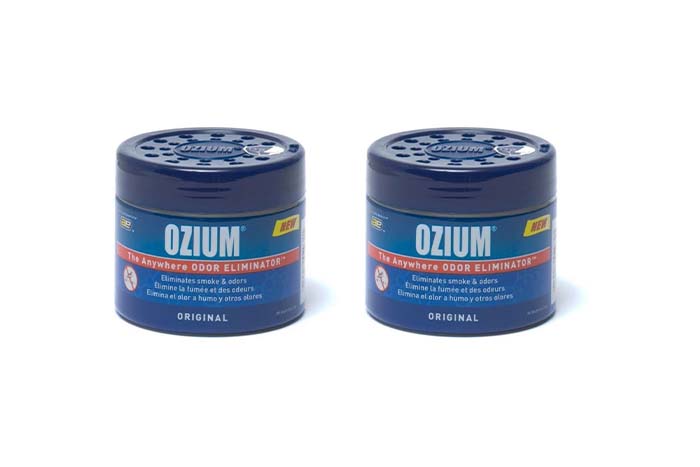 Smoke is often one of the foulest odors that you will encounter when trying to get your car smelling new again. Perhaps you purchased a vehicle from a previous owner who smoked, or maybe you smoke and need to remove the smell. Either way, you need something strong that has the ability to deodorize and remove foul odors from your car interior.
This Ozium gel can do just that. Instead of placing a heavy scent in the air, this air freshener works by removing all the bad scents from your vehicle. It is even strong enough to remove the smell of cigarette smoke or mildew. Plus, it is extremely easy to use. Simply pop the top open and place it into your vehicle. You can put it under the seat, in a cup holder, or in any other spot you wish.
You can purchase these on Amazon for about $15, and they will last for a few weeks. If your vehicle has heavy smoke or odors, then you might find that it needs to be replaced more often. The only real drawback is the fact that you do not have many scent choices, but that's not really necessary since the point of this gel is to eliminate odors anyway.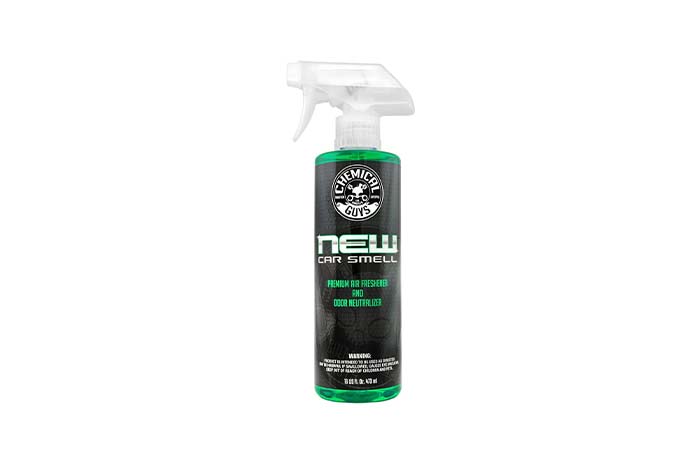 Chemical Guys make some of the best spray air fresheners out there. The new car smell is typically the most requested scent by car owners, and this product comes close. While it is nearly impossible to recreate the smell of a new vehicle, Chemical Guys have nearly perfected it.
All you need to do is spritz some of this into your vehicle and wait. This special formula will break down the odors in the air to help neutralize them while replacing them with a great new car smell. Just be careful not to spray too much on the seats, or you might end up smelling like a new car yourself!
You can purchase this product for about $10 at most retailers, and you can get many uses out of a single bottle. Depending on how often you spray this inside your car, it could last you for several months.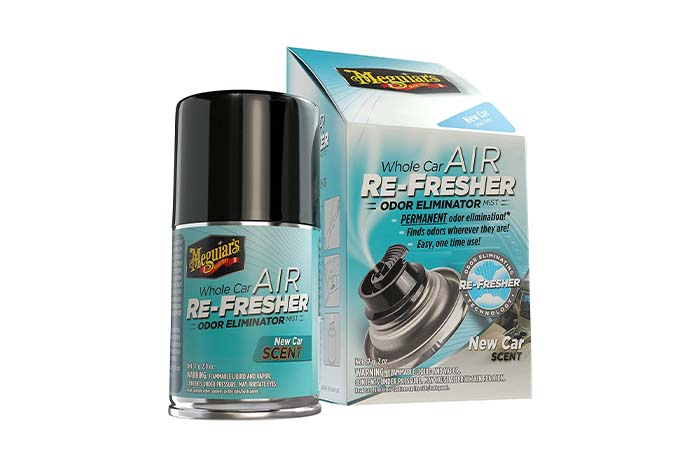 While the Chemical Guys product mentioned above comes close to perfecting the new car smell, this product from Meguiar's does it even better. The product comes in what appear to be mini canisters – almost like small cans of spray paint.
These little cans are one-time-use products. When you get ready to use them, they will act like a fogger and spread the product through all areas of your vehicle. Plus, when you run the AC, the scent will get circulated through the vehicle even more. You will feel like you just drove off the lot in a new car!
You can purchase a two-pack of this product for about $6 at most retailers, so they are fairly inexpensive. One application should last you a few weeks, so you get a great bang for the buck with these products.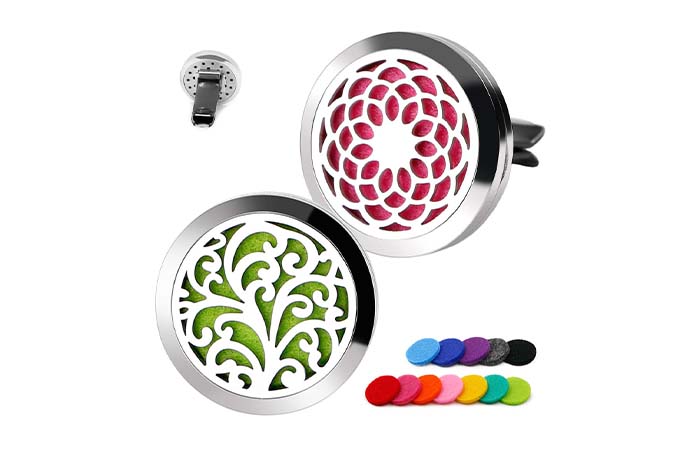 If you are looking for a fresh scent from essential oils, then the RoyAroma diffuser is the way to go. These products will clip onto your vents so that the scent gets distributed throughout your vehicle.
You should know, however, that you will need to provide your own oils. Simply place a drop or two of your favorite oil onto one of the felt pads included with these diffusers. The pad then gets placed into the diffuser, and the scent of the oil diffuses into the air. These cost about $10 and include 12 pads that can be used over and over again as long as you don't mix different oils (unless, of course, you want to mix them).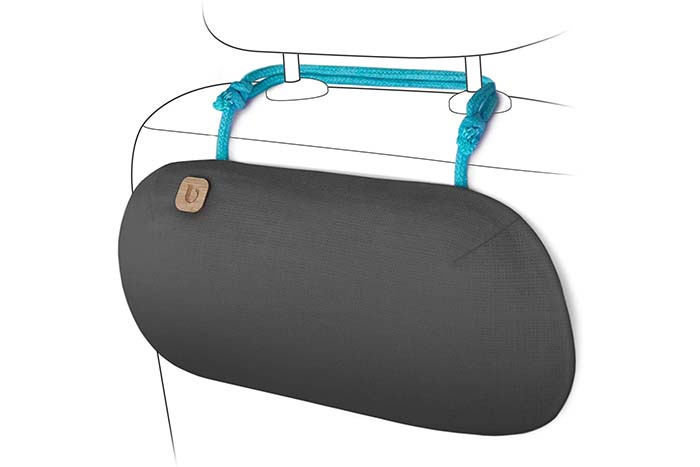 Many people want natural products without any harsh chemicals in them. If this is you, then the PURGGO air freshener is your best option. It contains bamboo charcoal that helps absorb odors and allergens for up to a year. The sun helps to recharge and reactivate the charcoal so that it can continue to keep your car smelling fresh.
The downside is that it is much larger than some of the other air fresheners listed here. It also costs about $20, but that is not a bad price considering how long it lasts.
The runner-up in this category was the Moso Natural Air Purifying Bag. This product also contains bamboo charcoal, though it is a little smaller than the PURGGO product. With both products, you need to lay them in the sun for about an hour or two each month to reactivate the charcoal.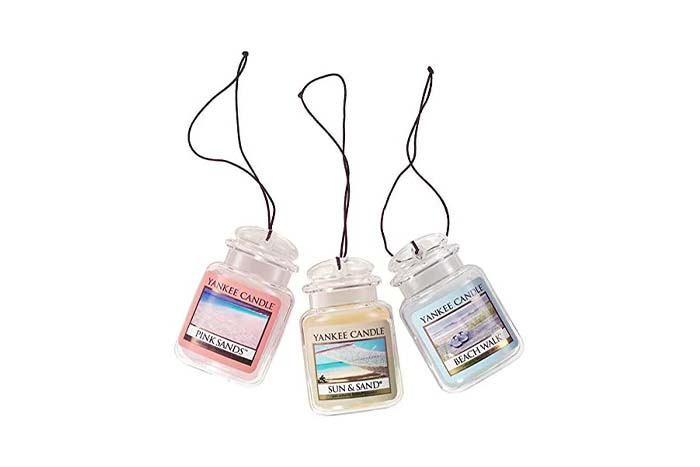 Some people like to change their air freshener frequently, while others will keep the same one forever. If you fall into the latter category, then this Yankee Candle long-lasting car air freshener product is for you. These little jars work great at removing unpleasant odors from your car and replacing them with a nice pleasant scent of your choice. Plus, they typically last at least 60 days apiece.
These run about $6 each on Amazon, but they are a great value considering how long they last and how well they work. Go ahead and pick out your favorite scent and order yours today.
The Bottom Line
Car interiors absorb bad odors from food, pets, and other things that get into your vehicle. If it's time to refresh your car's smell, then you should pick one of these air fresheners from our list. Find the one that fits your needs best, and give it a try!
Frequently Asked Questions
How can I make my car smell good all the time?
The best way to make your car smell good is with a great air freshener. You should consider getting one that is great at eliminating odors. This will provide a nice, fresh smell without a heavy car perfume scent to cover it up.
How can I get my car to smell new again?
It is nearly impossible to recreate the new car smell, but there are two air fresheners on the market that come very close. Chemical Guys and Meguiar's both make a new car scent that smells very close to the real thing.
What air freshener do car dealers use?
The answer varies from dealer to dealer. You may prefer the scent used by one dealer over other scents. The best thing to do is find an air freshener that you enjoy and use it in your car. Your car air freshener is another way that you can personalize your vehicle by getting the scent you prefer and giving your vehicle a wonderful and unique smell.
What are the benefits of car air fresheners?
Car air fresheners keep your vehicle's interior smelling great. They make your car smell much more inviting, and you can avoid smelling foul odors when riding in your vehicle. They will make people actually want to ride with you!