The Chevrolet Traverse is a midsize SUV that first debuted in 2008. Chevrolet owners were looking for an SUV that was not as large as the Tahoe or Suburban models. The Traverse was Chevrolet's answer to this problem. When it comes to reliability, the Traverse gets average scores. While many people are pleased with their vehicles, other Traverse owners have reported big problems. Some of the issues can even present safety hazards. If you are considering a Chevrolet Traverse, then keep reading. We will tell you the most common problems with the Traverse and which year models will most likely experience those issues. Here are all the details.
Most Common Chevrolet Traverse Problems
All vehicles encounter problems from time to time, and the Chevy Traverse is no different. Traverse owners have reported some issues much more frequently than others. Here are the seven most common problems reported to the National Highway Traffic Safety Administration (NHTSA).
— Power Steering Failure
Power steering problems were a big issue in the early years of the Traverse, especially in the 2009 and 2010 models. In fact, power steering issues accounted for nearly one-third of all complaints in these models. The way in which this problem shows up often differs, and the fix can vary as well. Some drivers reported that their power steering would cut in and out. This could make the wheel difficult to turn while driving, and this could present a serious issue when driving in traffic.
At other times, you might hear loud whining or clunking noises when turning the wheel. You might even experience a leak in your power steering fluid, so you should always check your power steering fluid regularly. At a minimum, the fix for the power steering issue usually requires the replacement of the power steering pump. This is not a cheap repair, but the other fix is even more expensive. Sometimes, a total replacement of the steering rack is required. This could cost you as much as $2,000.
— Engine Failure
Traverse models in 2010 and 2011 reported engine failure as the most common problem with the Chevy Traverse. Many owners reported sudden and complete failure of their engines around 100,000 miles. Unfortunately, complete engine replacement was the only solution to this problem. The fix usually costs owners more than $5,000 to complete.
Sadly, there are other engine problems that owners have reported as well. Owners of 2009 to 2012 models have reported throttle body problems and timing chain issues. Many found that these parts needed to be replaced, and Chevrolet even issued a technical service bulletin describing the timing chain problem on the 2009 to 2012 models. These repairs often cost between $1,000 and $2,000 to perform.
Lastly, some 2013 Traverse owners reported that their Traverse would abruptly shut off and stop. It has been mostly found that this problem is related to the StabiliTrak system and not the engine itself. There is also a TSB issued by Chevrolet that describes the replacement of the fuel pump to fix this issue.
— High Oil Consumption
Some Chevy Traverse models have an issue with high engine oil consumption. The engine uses so much oil that some drivers must keep an extra quart of oil in their car at all times. Unfortunately, you might not see a check engine light or other warning signs, so you should always check your engine oil level frequently. Some owners report that their engine frequently stumbled, experienced misfires, or lost engine power altogether, and this usually always signaled that the engine oil level was low. This issue seems to be related to a poor design of the internal parts of the engine, and Chevrolet has released a TSB about the problem recently. The oil consumption can also lead to prematurely fouled spark plugs, so keep an eye out for that.
The excessive oil consumption problem seems generally confined to the earlier models, like the Traverse model year 2009. Although, some owners reported this engine issue as late as 2015. If you opt for a newer Traverse, you can likely avoid getting one that uses an excessive amount of oil.
— Transmission Problems
Transmission issues seem to have plagued the Traverse from the early days of its inception all the way to more recent models. The Traverse got a complete redesign and overhaul in 2018, but transmission problems carried over into the new models as well. Some owners have reported complete transmission failure on older Traverse models with as few as 75,000 miles. Unfortunately, a simple transmission fluid flush will not correct the problem. Replacement of the transmission is usually the only fix, and transmission repair costs can exceed $4,500.
Newer models still have transmission issues, and many owners have been unable to shift their cars into gear because of the problem. Eventually, the car will be unable to drive at all. Several service bulletins have been issued by Chevrolet to address these problems, and your dealership can help you understand if any of these apply to your vehicle. Unfortunately, the TSB does not mean that your repair will be covered under warranty. You will still have to pay for the repair if your vehicle is no longer under warranty.
— Noisy Brakes
Some owners of the newer 2020 Chevrolet Traverse model have reported harsh noises when they press the brake pedal. While these reports are not widespread, the issue was apparently bad enough that Chevrolet issued a technical service bulletin about it. The grinding noise can certainly be unnerving to drivers who press the brakes and expect their car to come to a stop. The TSB that was issued is valid for 2018 to 2020 models. Fortunately, replacement of the brake pads will often fix the problems, and brake pad replacement costs only run about $300.
Another issue with the Traverse might seem like a brake problem, but it is actually related to the stability control system. In some instances, the StabiliTrak traction control system will engage improperly. This can cause the vehicle to brake suddenly on its own, which could present dangerous situations for drivers who encounter the problem. They might even lose control of the steering wheel, and this issue often occurs without any warning lights or other indicators.
— Air Conditioning Trouble
The 2012 through 2015 Traverse models have problems with the air conditioning. This can be a big problem, especially in warmer climates. Imagine turning on your A/C only to have warm air blowing from the vents. The problem seems to stem from an issue with the A/C compressor, and most owners have to replace the A/C compressor to repair the issue. Some owners even reported that part of the A/C compressor melted. The repair cost for compressor replacement usually runs about $1,000.
Unfortunately for Traverse owners, no recall was ever issued for the air conditioning problems. This means you will have to pay for the repair if your vehicle is no longer under warranty. Most people report that this problem occurs around 80,000 to 100,000 miles, so you will probably be paying for the repair out of your own pocket.
— Air Bag Issues
The airbags are an extremely important safety feature, and problems with your airbag system should be fixed right away. Problems with the airbags could result in serious injury during a crash. Airbag problems with the Chevy Traverse are usually indicated by an airbag warning light illuminating on your dash. In some cases, Traverse owners report that the warning light illuminates intermittently.
The airbag issue described above is not limited to the Traverse. General Motors decided to cover the issue under special warranty coverage for the Traverse and some of their other models. The Buick Enclave was also affected by this problem, and some GMC models also had the problem. If you have to pay for the repair on your own, it should only cost you about $300. A connector in the electrical system responsible for illuminating the airbag warning light typically needs to be replaced.
Chevy Traverse Model Years With The Most Problems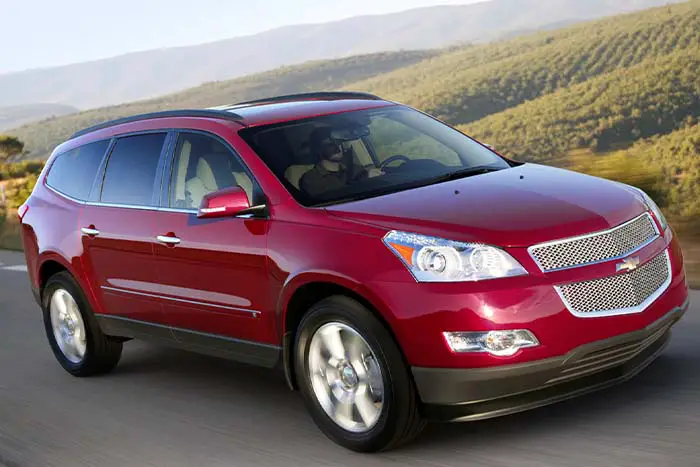 You might wonder, "What are the Chevy Traverse years to avoid?" Most problems with Traverse models on Carcomplaints.com are registered with the early-year models. You should generally avoid 2009 through 2012 models. These models were known for having engine problems, like excessive oil consumption and timing chain problems. In addition, these models had transmission problems and electrical problems that made owning these year models very frustrating. The powertrain on the first-generation Traverse was just not very reliable.
The Traverse has gotten much better in terms of reliability in recent years. However, the model was revamped in 2018, and that design change introduced a few problems. The biggest problem with the 2018 Traverse is a transmission issue. Drivers frequently see the "Shift to Park" message displayed on their dash. Power steering issues also plagued the 2018 Traverse, but many owners were able to get these issues fixed under warranty because their Traverse was still a fairly new car when the issues arose.
Overall, Chevy Traverse reliability gets an average score. The newer models rank above average, while you should avoid the 2009 to 2012 models at all costs. The Traverse has slightly better reliability than its Hyundai and Kia competitors but slightly lower reliability than its Honda and Toyota competitors. A well-maintained Traverse can last well over 100,000 miles, and the annual cost of ownership for the Traverse is only about $600 per year.
Repairing Common Problems On The Chevy Traverse
If you own a Traverse, you might wonder what it will take to repair these issues if they occur. Some common problems with the Traverse are not extremely expensive to repair. While the most common airbag problem should be repaired immediately since it is such a critical safety feature, it will only cost you about $300 in most cases to fix the problem. However, the costs can begin to increase if you start to see some of the other issues the Traverse may experience.
Repairs to the A/C compressor often require total replacement of the compressor. This is likely to cost you $1,000 or more. Transmission issues are even more expensive. A transmission rebuild or total transmission replacement will usually cost more than $4,000. Since most transmission problems with the Traverse occur after the factory warranty has expired, you will probably be stuck paying for the repair out of your own pocket.
Finally, engine issues are the most expensive repair of all. The first-generation Traverse had engine problems that often required a complete engine rebuild or replacement. Engine rebuild costs usually range from $3,000 to $5,000, while engine replacement will cost you $4,000 to $7,000. These repairs are not cheap, and you should decide whether you might be better off purchasing a new car.
The Bottom Line
Early models of the Chevy Traverse had some big problems, and you should avoid those models if you are purchasing a used car. The 2009 to 2012 models had the most issues, and those problems included engine failure, transmission problems, and problems with the air conditioning. The newer Traverse models have fewer problems, although the 2018 model did have quite a few issues. Overall, the Chevy Traverse is a fairly reliable vehicle that compares well to its competitors. If you are in the market for a midsize SUV, you should consider the Traverse — just stay away from the early models.
Frequently Asked Questions
Is the Chevrolet Traverse a reliable vehicle?
Yes, the Chevy Traverse is a reliable vehicle, but the newer models are much more reliable than the older ones. You should avoid early-year models of the Traverse, as the 2009 to 2012 models were plagued with many problems. Engine problems, transmission problems, power steering issues, and A/C problems topped the list. However, recent models of the Traverse have far fewer problems and appear to be much more reliable.
What is the most common problem with the Chevy Traverse?
The most common problem with the Chevy Traverse seems to be engine issues that occurred in the early Traverse models. Excessive oil consumption is one of the biggest problems experienced with the engine in these vehicles, although engine failure occurs in some vehicles. Power steering issues and transmission problems are the next most common issues, and those problems occur most often in the early models as well.
How much does it cost to fix common Chevy Traverse problems?
Some Traverse problems are quite expensive to repair. Common problems, like engine and transmission problems, can cost several thousand dollars to repair. Owners typically pay $4,000 or more to repair these problems. Power steering issues usually cost about $1,000, as the repair usually involves replacing the power steering pump. A/C compressor replacement usually costs about $1,000, and it costs only about $300 to replace the connector that causes the airbag light to illuminate intermittently.