When it comes time to sell something, many people turn to Craigslist. Used cars are no exception. Craigslist is a giant online marketplace that allows buyers and sellers to interact and complete transactions. Selling your car to a private party can have many advantages, including getting more money for it than you would on a trade-in. So, what do you need to do to sell your car on Craigslist? There are a few steps that you can take to make sure that you get top dollar for your used vehicle. Keep reading as we give you all the details.
10 Steps To Sell Your Car On Craigslist
Is selling a car on Craigslist as simple as taking a photo and posting an ad? In some cases, yes! However, if you want to get the most money for your car, then there are a few more steps that you should take. Here are the ten things you need to do to get the highest price when selling your automobile.
#1. Research Your Car's Value
First, you will want to spend some time researching your car's value. If you don't know what your vehicle is worth, it will be impossible to sell it at the highest price. This process doesn't have to take hours, but you should put a little time into it. There are many reputable industry websites that you can use to perform this research. Start with the industry leaders like Edmunds, CarFax, Kelley Blue Book (KBB), and NADA. These will give you great starting points for the market value of your car.
Next, head over to AutoTrader or eBay Motors and search for cars that are similar to yours. This will show you precisely what cars like yours are listed for in your area. Once you have spent some time performing this research, you will be able to set a great asking price for your car, and you will also know how much room you have for negotiation.
#2. Take Amazing Photos
Now you need to get your car cleaned up and ready for photos. Make sure that you perform a complete detail on the vehicle, including both the interior and exterior. Potential buyers want to see a clean car that looks great, not a dirty old car. Once you have the car completely clean and looking its best, it is time for the photos.
Be sure to select an appropriate location for your pictures. Try an empty parking lot or a garage if possible. Do not take photos of your car sitting in the yard surrounded by mud and trash. Also, be sure to take your pictures when the natural light is at its best. Try to avoid the middle of the day when the sun is shining directly on the vehicle. Good photos are one of the best ways to attract buyers! You want your photos to look professional and make your car look as good as possible.
#3. Make Necessary Repairs
Since you are trying to get top dollar for your car, everything needs to be in proper working order. If you have any warning lights illuminated, you should have a mechanic check those out before listing your car for sale. Perhaps it will be an easy fix, and it might not cost you much money to repair.
If the vehicle has major issues, you have to decide. Will you be able to recoup the money for the repair with the increase in sales price? A car in great working condition is worth more than one that needs auto repairs, but how much more will depend on your specific situation. You will need to decide whether to spend the money on the repairs or sell your car at a lower price to someone who knows that it has a few problems. In very bad cases, you might even be forced to sell your car to a junk car buyer.
#4. Create A Detailed Ad
You've probably seen some of those Craigslist ads out there that barely even describe what the person is selling. A one-sentence ad with one terrible photo is not likely to generate much interest in your car. We've already covered the photos, but now it is time to create the perfect ad for your car.
You will want to include as much detail in your ad as possible. You will want to include the basic information like the year, make, and model of your car, but simply telling people it's a Ford or Chevrolet is not enough. Buyers will want more information than that. They will also be looking for things like the odometer reading, the vehicle's trim level, the engine size, the condition of the tires, and any imperfections the car may have. Feel free to browse other ads — even those created by car dealers — to get an idea of what to include in your ad. The more detail you can include, the better.
#5. Field Phone Calls & Emails
Now that you have your ad created with the perfect description and photos, you can expect those phone calls and emails to start coming in. Make sure that you respond to these messages as quickly as possible. Serious buyers might want to make a fast purchase, so if you do not respond within 24 hours, they might move on to another seller. At this point, it is hard to tell the serious buyers from the tire kickers, so you will need to respond and answer everyone's questions. You might choose to list your cell phone number so that people can text you as well.
Keep in mind that you might be able to easily spot some scams at this early stage of the transaction. Watch out for red flags like emails asking about your vehicle that sound too good to be true. If the email mentions a Nigerian prince who wants to send you a check for more than the asking price, delete it immediately. Use your common sense when responding to prospective buyers, and don't be afraid to ask questions of them as well if necessary.
#6. Schedule Test Drives
You should have identified at least one genuine buyer who has a serious interest in purchasing your car by this point. They will likely want to meet you to see the vehicle in person and take it for a test drive. Here is another place where you will want to use common sense and good judgment for your safety.
Always schedule your test drives in a public place. If you can, bring along a friend so that you are not meeting a stranger alone. Before scheduling test drives, give your insurance company a call to see whether your vehicle will be covered if someone else is driving it. If not, make sure that you see a copy of the potential buyer's insurance card before handing over the keys. In addition, you will want to ask for a copy of their driver's license before turning them loose on the road.
#7. Negotiate A Deal
Let the negotiations begin! Now that the inspection and test drive are complete, you might get your first offer! More than likely, the buyer will offer you less than your asking price. In this situation, you must be prepared to negotiate. Again, this stresses the importance of doing your research to determine your car's value. If you know what your car is worth, then you will have the upper hand during negotiations.
If they make a lowball offer, then be prepared to walk away and tell them no. Your negotiations might go back and forth a few times until you finally settle on a price that is agreeable to both you and the buyer. Once you both agree on a price, then you have reached a deal! It is time to get all the paperwork together to close the transaction.
#8. Get The Right Paperwork
Getting the proper paperwork together is a crucial step. Many people buy cars from a dealership to avoid dealing with the paperwork on their own. There are a few things that you will need almost every time in every state. Those items include a bill of sale and the car title. If you are purchasing a vehicle in a different state, then you might need even more paperwork.
Make sure that the bill of sale lists all the critical elements of the transaction. It will need to show the names of both the buyer and seller as well as list the vehicle identification number and a description of the car. You might even be required to show the odometer reading there as well. If you have any questions about the documents that are required to transfer the title, then your local DMV is usually a good source of information. Since the laws vary from state to state, make sure that you get reliable and local information on this subject.
#9. Close The Deal
Now it's time to close the deal and get paid! You should only accept cash or a cashier's check for the vehicle. If you accept a personal check, you might find that the buyer has insufficient funds in their account. That could cause a huge headache and might leave you without a car or money in your pocket. Money orders and wire transfers can also be risky, so those should also be avoided. If you have any liens on the vehicle, those will need to be paid off as part of the transaction. Your lender or lienholder will release the car title once the lien has been satisfied.
Many people decide to close "for sale by owner" transactions at the Department of Motor Vehicles office. This way, they can promptly address any issues with the paperwork while both parties are present. If you cannot do this, then it might be a good idea to have a notary witness the bill of sale. In fact, some states require a notarized copy. If you gather all your paperwork ahead of time, then closing the deal should be fairly smooth.
#10. Remove Your License Plates
Once the car is sold, go ahead and remove the license plates from the vehicle. The new owner will be responsible for obtaining new plates along with a new registration. Most states allow at least a couple of weeks to do this, although the new owner should keep all the paperwork in the car until the new plates and registration are obtained.
Tips For Avoiding Used Car Scams On Craigslist
Many people wonder how to sell a car on Craigslist without getting scammed. Unfortunately, scammers are always looking for a way to cheat someone out of a dollar, and people who sell cars on Craigslist sometimes fall victims to these scams. If you plan to sell your car online, then make sure you are extremely careful during each part of the transaction. Be on the lookout for red flags or anything that sounds suspicious. Meeting people and completing the transaction in person is the safest way to avoid scams. You will generally want to avoid people who want to complete the transaction totally online without ever meeting in person.
You should also be careful of the types of payments you will accept. Cash is the best option, and you should obtain a counterfeit detector pen like the ones used at banks and retail shops. For only a few dollars, this can help you determine the authenticity of the money used. You could also accept a cashier's check, but you should have your bank inspect the instrument to ensure it is valid before completing the deal.
Other Ways To Sell Your Car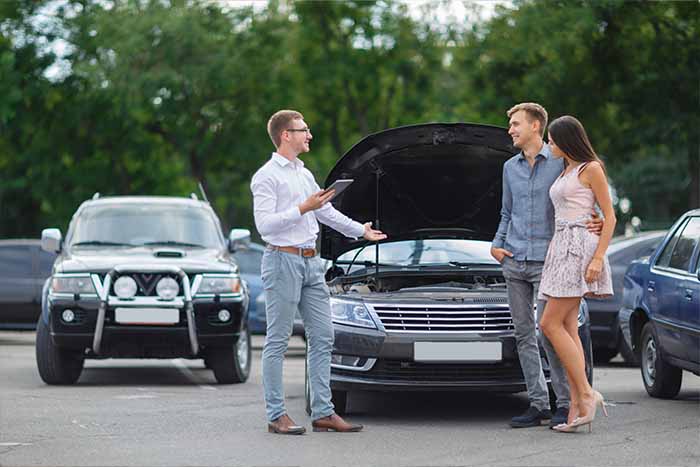 If this all sounds like too much hassle, then you do have other options for selling your car. Craigslist classifieds are not the only way to get rid of a used car. Another easy option is to sell your car to CarMax or another local dealership. Many dealers will make you a cash offer for your vehicle and purchase it — even if you do not buy a new car from them.
Another popular option is to sell your vehicle to an online car buyer. Services like Vroom and Carvana allow you to get an offer on your car within a few minutes by providing them with some basic details about your car. If you accept their offer, they will come to you and pick up the car. This is an extremely easy process with upfront pricing. While you might not get quite as much money out of the deal, you don't have to worry about the paperwork or even leave home.
Finally, if your car is in bad shape, you could always visit the local junkyard or auto salvage yard. They might purchase your vehicle for parts or scrap metal. This method is likely only to net you a couple of hundred dollars, but it will get your car out of your driveway and give you a little money for a down payment on a new vehicle.
The Bottom Line
Selling a car on Craigslist does not have to be difficult, and you can get a great price if you follow the steps laid out above. Make sure that you stay safe and use common sense when navigating the process. Know the value of your car and be prepared to negotiate once buyers start reaching out. Once you agree on a price, draft all the paperwork and get that deal done! You will have that deal closed in no time.
Frequently Asked Questions
What should I be careful of when selling a car on Craigslist?
You should be careful of scammers. There are people who will attempt to give you invalid or insufficient payments. Only deal with cash or cashier's checks, and you should even consider closing the deal at your bank so that they can verify the payment. Also, be careful when scheduling test drives and meeting strangers. Take along a friend and always meet in public to keep yourself safe.
What should I include in my Craigslist post to sell my car?
You should include as much detail as possible. List the year, make, and model of the vehicle, along with more information about the car's condition and its history. Take a look at other listings there to find examples of a good ad. The more detail you can provide, the more interest the buyer is likely to gain as they read the ad.
What should I do if I'm selling a car and the buyer wants to inspect it first?
This is perfectly normal. Most buyers will want to inspect the vehicle before they buy it. You should meet at a public place to let them look at the car. They might even want their mechanic to check it out as well. This is also normal, and you should not worry about taking the car to the repair shop so that their mechanic can inspect it.
Why is Craigslist charging me $5 to sell a car?
This fee is an effort to minimize scammers on the site. When it was completely free to create an ad, scammers were creating fake Craigslist vehicle ads in an attempt to steal money from people. Charging a small fee helps to prevent these scammers from creating ads on the site.