Trading in a vehicle can be easy, but you might lose out on several thousand dollars. Trade-in offers are usually much less than you could get for the car by selling it privately. However, many people are often afraid of private party sales because they think the process is too complicated. They might also be worried that it will take too long, thus delaying the ability to get a new car. If you do things right, you can sell your car quickly on your own with minimal effort. All you need to do is follow the steps outlined below to quickly sell your old car and put the most money in your pocket.
10 Steps To Selling Your Car Privately
Are you wondering how to sell your car? There are many different ways to sell your vehicle privately, from Craigslist to eBay Motors. Regardless of the method you choose, the overall process is generally the same. There are certain things that you must do to get top dollar for your vehicle. Here are the steps that you need to take.
#1. Determine Your Car's Value
Many people wonder how to sell a car privately. The first thing you need to do when getting ready to sell your car is to determine how much your car is worth. If you don't know your car's value, then you will be unable to set the best asking price and unprepared for negotiations with potential buyers. Start with the basics. Spend some time doing research on Kelley Blue Book, Edmunds, CarFax, NADA, and other industry guides. This will give you a great starting point for the value of your car based on its year, make, model, and condition.
Next, browse car ads in your local area on AutoTrader or some other site. Search for cars that are similar to yours based on the condition and mileage. This will give you an idea of how much a used car like yours is being listed for. Once you have this information, you will be able to set a reasonable asking price. You will also be prepared for negotiations with prospective buyers when it comes time to close the sale.
#2. Perform Necessary Repairs
Selling a car that is not in good working condition can be difficult. Before buyers begin inspecting your car and taking test drives, you will want to make any repairs that might be necessary. If your car has a check engine light or any other warning lights illuminated, have a mechanic determine the cause. It may be a simple fix, and your car will be worth more without those lights illuminated.
If your car requires major, expensive repairs, then you will need to weigh the pros and cons. If the repair costs you a few hundred dollars but raises the value of your car by a couple of thousand dollars, then it makes sense to fix it. However, spending thousands of dollars on repairs before listing the car for sale is probably not a great decision. In that case, you should likely look for a buyer who is willing to purchase the vehicle in its current condition. You might even turn to a junk car buyer or auto salvage yard to complete the transaction.
#3. Prepare Your Vehicle For The Sale
Now it's time to get your car clean and shiny! Spending a little more time and effort on this step can really pay off in the long run. Nobody wants to buy a car that is dirty or smelly. It is imperative that you thoroughly detail your vehicle before listing it for sale. You will want to clean and vacuum the interior along with cleaning the upholstery. When it comes to the exterior, give it a good wash and also a coat of wax if necessary. Use some tire shine to really finish off the look.
If you don't believe that you can thoroughly clean the car, then consider paying for a professional detail job. Even though it might cost you $150 to $200, it will greatly increase your odds of getting a good price for your car. This is an expense that will almost always pay for itself when selling your car.
#4. Take Great Photos
Photos can make or break your car ad. If you take great photos and make your car look good, then people are much more likely to be interested. On the other hand, if the vehicle looks rough in the photo, then nobody is going to want it. There is no need to have professional photos taken most of the time, but do your best to make the photos look good. First, choose an appropriate background. Try an empty parking lot or a beautiful roadside. Do not simply snap one picture of your car parked directly between two other vehicles.
Also, choose the appropriate time of day for the photos. Lighting has a significant impact on the final look of the images, so make sure you select a time of day that offers the best lighting for the pictures. Finally, take lots of pictures! Get several shots of the outside of the car plus multiple interior shots. Potential buyers want to thoroughly look over every aspect of the car from just the photos. Make sure they can do that.
#5. Create The Perfect Ad
If you know anything about marketing, you know that the copy in an ad can directly affect whether someone is interested in buying. You don't need a marketing degree to sell your car, but you should create an ad that says more than "2015 Chevrolet Silverado." Give people all the details that they need to know about your vehicle right there in the ad.
If you are selling your car on Craigslist, you should do so much more than just list the car's year, make, and model. Make sure you include other pertinent information like the odometer reading, trim level, condition, and any relevant vehicle history. If you have a copy of the vehicle history report, then go ahead and mention that in the ad. Try to think of questions that buyers might have, and go ahead and answer those in your ad. When a buyer finishes reading your ad, they should know what you are selling and want to contact you right away.
#6. Field Calls & Emails
Now is the time the phone calls and emails should start rolling in! Some people also choose to include their cell phone numbers in the ad so that people may text them. You will need to respond to these calls and messages promptly. Waiting too long might cause someone to move on to the next seller, even though your vehicle might be a good deal.
At this stage of the process, it can be difficult to tell the tire kickers from the serious buyers. So, you'll need to respond to every message that comes in. Unless, however, you can tell that the message is from an obvious scammer. You should not even respond to messages with immediate red flags of a scam.
#7. Schedule Test Drives
Once you've gotten a few phone calls or emails, you likely have someone who wants to inspect the car in person and take it for a test drive. This is completely normal, and you should be glad that they are interested in the vehicle! However, you need to do a few things before you meet for a test drive. First, you should call your auto insurance company to determine whether your vehicle will be covered with someone else behind the wheel during a test drive. If not, make sure the driver has a valid insurance card before heading out. You might even consider having the person sign a release of liability in the event they have an accident.
You should also always meet in a public place. If possible, do not go alone as this could be unsafe. Lastly, snap a quick photo of the person's driver's license before they take off in your car. This ensures that they have a license and gives you some identification if they damage or attempt to steal your vehicle.
#8. Negotiate Like A Pro
Now it's time to come to an agreement on a sales price! You should already be prepared for these negotiations if you do your research in the first step of this process. More than likely, the first offer that you get will be less than your asking price. That is perfectly normal as most people expect to haggle on the price of a used car. Since you have already done your research, you should know the value of your car.
Since you already have the car priced properly, as long as you are willing to do a little negotiating, you should be able to find a buyer who will pay what your car is worth. If the buyer makes a lowball offer, you should counter with the data you have already gathered. If they are unwilling to raise their offer, then be prepared to walk away from the deal. Be patient, as finding the right buyer can sometimes take time, but you will eventually come to an agreement and reach a deal with someone.
#9. Complete The Necessary Paperwork
Once you have reached a deal, it is time to complete all the paperwork to transfer ownership and close the deal! Hopefully, you have already located your car title, but if not, then go ahead and find it. Remember that your lender holds the vehicle title if you still have a car loan on the vehicle. You will also need to draft a bill of sale that includes several pieces of information, like the names of both the buyer and seller, along with the vehicle identification number and other pieces of information about the vehicle. Some states require a notary to witness the signing of the bill of sale.
Many people choose to close the transaction at the state's Department of Motor Vehicles (DMV) office. This allows the new owner to register the vehicle in their name and immediately address any paperwork issues that might exist. Some states might also require a smog test and the payment of sales tax to close the deal. Your state's DMV is often a great resource for asking questions about the specific documents that will be required. If you are paying off a loan with the proceeds from the sale, then you will likely need to close the deal at your bank or lender's office. This way, they can immediately release the title to the buyer.
#10. Get Your Money
It's time to get paid! You should be particularly careful at this step so that you do not get scammed. Only accept cash or a cashier's check as payment. Personal checks and even credit cards can lead to too many problems that can be difficult to correct. Most people buying a used vehicle from a private seller know how it works and that they will need cash, but it is important to keep this tip in mind.
Once you have your cash, then go ahead and remove your license plates. The new owner will need to obtain a new registration along with license plate stickers once the title transfer is complete. You should also notify your car insurance company that you have sold the vehicle so that you are not paying insurance on the car after it has been sold.
Other Options For Selling Your Car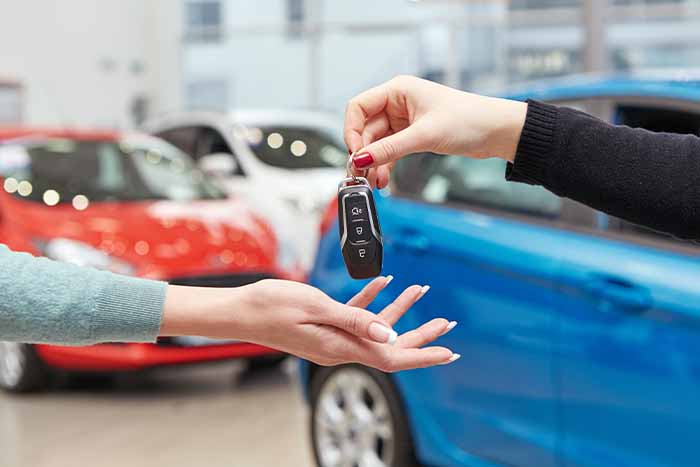 The process mentioned above might seem like too much hassle and work for you. If it does, you have other options for selling your car that are much simpler and easier. However, be aware that you might not get quite as much cash at the end of the deal.
— Online Car Buyer
Are you thinking, "How can I sell my car online?" It has never been easier to sell your car online than it is today. There are many online car buyers out there like Vroom or Carvana that will buy your car without even seeing it. Simply visit their website and provide some details about your car. They'll make you a cash offer within a few minutes. If you accept the offer, they will come to your house and pick up the car.
— Trade-In
This is the route that many people choose to take when getting a new car. Just take your old car to the dealership and tell them you want to trade it in. Remember, though, that the trade-in value of your car is going to be less than the amount you could get through a private sale in most cases. This may not technically be a car sale, but it is an easy way to get rid of your old vehicle as part of the new car buying process.
— CarMax Or Local Dealership
Many local dealers will buy your car today even if you do not purchase a vehicle from them. The only thing you need to do is take your car to them and let them perform an inspection and appraisal. They'll make you an offer and buy it on the spot. Many people think this is the best way to sell a car. The valuation that your vehicle receives as part of this process is generally about the same as a trade-in.
The Bottom Line
If you are wondering, "How do I sell my car," then you should now have a great idea of what you need to do. Selling a car is something you can do on your own, and following the steps laid out here will ensure that you get the most money for your vehicle and get it sold quickly.
Frequently Asked Questions
How do I sell my car privately fast?
Many people need to know how to sell a car fast. If you need to sell your car fast, make sure it is priced right and in the best condition. Give it a thorough detail, and advertise the vehicle in as many places as possible. If you don't have any luck, you should consider taking it to a local dealership or using an online car buyer for an immediate offer.
How do I sell a car with a salvage title?
Private parties cannot sell a car with a salvage title. Only licensed salvage dealers may buy and sell cars with salvage titles. These cars cannot be driven on the road until they have been rebuilt and passed the proper inspections.
What do I need to do before selling my car?
You should clean the car thoroughly and find your title. Do market research to determine the value, and be prepared to negotiate a good selling price once you find an interested buyer.