You have likely heard people saying that they are going to part out their old junk car before. But, do you know what that means and what the process is for doing that? Parting out a car can be a profitable task, but you need to know what you're doing before you dive in. Otherwise, you can waste a lot of your time and effort and get little results. Keep reading as we tell you everything you need to know about selling your car for parts. We will give you the details on how to do it as well as offer some tips on how to get the most money.
How Do I Sell My Car For Parts?
If you are wondering, "How do I sell my junk car," then you are in the right place. Selling a car for parts does not necessarily have to be an extremely involved process. There are many options available today that allow you to part out your car very easily. First, you need to assess whether your car has any usable parts on it. If it doesn't, you will probably need to sell your car to a junkyard for scrap metal. People want to buy car parts that work. Without any usable parts, it won't be easy to sell your car for parts.
If your car does have usable parts left, then you have a few options. The first is the most difficult, although it will usually bring in the most cash. This option involves removing and pricing the parts yourself. You will need to do your research to determine how much each part is worth and then find a buyer for each part through eBay, Craigslist, or some other method.
The next couple of options are much easier. You could take your car to an auto salvage yard and let them buy the whole car from you. They will estimate the value of the parts left on the car and then probably offer you about 30% to 40% of that value. This allows them to remove the parts and sell them for a profit. Finally, you could sell your car to a junk car buyer. These businesses will make you a cash offer on your vehicle, and most of them will come to your house and pick it up for free. This is typically the easiest way to sell your car for parts, and the offer you get is often competitive with offers you would see at a salvage yard.
What Is My Junk Car Worth?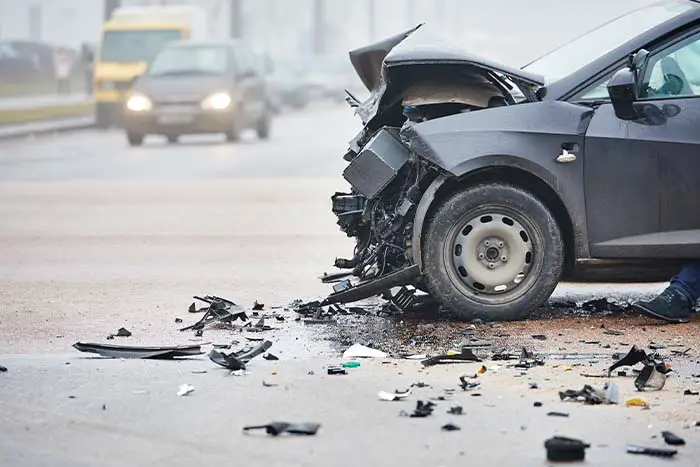 You're probably wondering, "How much can I sell my car for?" Your car's value depends on a few factors like the year, make, and model of the car. When it comes to junk cars, the general condition of the vehicle has a big impact on the value. If your car is total junk, then it will be worth much less than a vehicle that still has many usable parts left on it.
The best way to determine how much your car is worth is by doing a little research. If you want to sell a car for scrap, you should first research the scrap car prices in your area. Then, go ahead and get an offer from a salvage yard or scrap car buyer. You might be surprised to learn that your car could be worth anywhere from a couple of hundred dollars to a couple of thousand dollars. If you have a desirable vehicle with expensive parts like a catalytic converter still on it, then you might be able to get well over a thousand dollars for it.
Selling Car Parts On Your Own
Usually, the most difficult part of selling parts on your own is finding a buyer for each part. Of course, removing the parts takes time, but finding buyers for many different parts can be tedious. Here are a few ways to make that process a little bit easier.
— eBay
eBay offers a huge marketplace for used car parts. If you have the know-how to remove the part from your old car, then you can list it for sale on eBay. The chances are high that someone in the world is looking for that particular part. Plus, you aren't just limited to local pickup with eBay. You can ship the part anywhere, and both you and the buyer are protected through eBay's system. Plus, you can make the buyer cover the shipping costs. In some cases, you might even find that buyers will get into a bidding war if you have an extremely desirable part. This could lead to a lot more cash in your pocket!
— Craigslist
If you are selling individual parts to private buyers, then Craigslist is where many people turn. The site has a large automotive section, and people list everything from used cars to individual parts for sale. People will generally want to meet locally to close the deal, and you should be prepared for some negotiation. You might have to do a little bit of haggling to get top dollar as many buyers on Craigslist will want to make you very low offers. Facebook Marketplace is another similar site that people use to sell parts and get cash for them.
— Swap Meets
People are often more inclined to buy something that they can see and hold, so a local car show or swap meet is a great place to sell your car parts. These events usually host lots of potential buyers, as most people who attend are car enthusiasts. You might think that it would be a hassle to set up a booth at these events and spend a lot of time sitting there all day. However, if you are able to unload all your car parts and pocket a couple of thousand dollars, then it would definitely be worth your time!
Does Parting Out Your Car Make Financial Sense?
So, how do you decide what to do with your old car? Does it even make sense to sell the parts, or should you haul it to the junkyard and be done with it? First, you should assess whether the car is repairable. Maybe you want to continue driving your vehicle, and a few simple repairs could get it back on the road. Spending a little money to fix your old car might be a much better decision than trying to buy a new car.
If your car is beyond repair, then you will need to decide whether there are any valuable parts on it. If there are, then selling your car for parts is probably the way to go. You can decide whether to do it yourself or sell it to a scrap yard, but the value of your car will be higher if it has good parts left on it. Finally, if the car is total junk, then it doesn't make sense to part it out. You will spend a lot of time and effort removing parts only to find that you can't sell them. In that case, you should just tow your car to the junkyard or call a junk car removal service. These services will often give you an instant offer and provide free towing, and they will buy cars in any condition – including damaged cars. Go ahead and get that clunker out of the driveway so that you can buy yourself a new car.
Getting The Most Money For Your Car Parts
If you have decided to sell the auto parts off of your car, then you will want to avoid the dealership. They only want running cars in decent condition, so they are not the target buyer for your car parts. If you part out the car yourself, then make sure that you clean each part before listing it for sale. You want the potential buyers to realize that the part is in good condition, and they will be much more willing to give you a higher price for it.
If you are going to sell your car whole, then get offers from multiple buyers. Call more than one salvage yard and get some offers from online car buyers as well. This gives you options and allows you to select the highest offer. Remember that you can also negotiate with salvage yards. If you do not like the offer they made, then you can make them a counteroffer in an attempt to get a higher price.
The Bottom Line
If your old Toyota or GMC has seen better days, then maybe you are considering selling it for parts. There are many options available today for those who want to part out their car. Recycling an old car is no longer the only option. Whether you decide to sell the parts yourself or simply sell your car whole to a salvage yard probably depends on the amount of time you're willing to spend on the project. Either way, parting out a car can be a great way to push some extra cash in your pocket and buy yourself a new vehicle.
Frequently Asked Questions
Is it better to scrap a car or sell it for parts?
It depends on the condition of the vehicle. If the car is still in decent shape and has some usable parts, then it is almost always better to sell it for parts. Scrap car prices are very low right now, so you will not get much money for most scrap cars today. However, if your car has rotted away for years and no longer has any decent parts, then scrapping it is the way to go. That can still put a few dollars in your pocket and get rid of that eyesore in your driveway.
What should I do with my car once I've sold it for parts?
Once you have sold all the usable parts from your vehicle, you can still sell the remainder to a junkyard for scrap. The steel frame of your car contains several hundred pounds of steel, and that will put a few dollars in your pocket at an auto recycling center. Call around for the best price, and see if any junkyards will provide free pick up and towing.
Is it illegal to sell a car for parts?
No, it is not illegal to sell a car for parts. As long as you own the vehicle, then you can sell the parts without any issues. Stolen cars are often parted out, so the process, in general, can sometimes get a bad rap. However, as long as you are the rightful owner, then you can remove parts and sell them individually with no problem. If you own the car but don't have a title, then parting it out can be a great option for selling a car without a title.